During Erasmus day, Green Steps was invited by JugendInfo St.Pölten to screen for the first time its documentary about the Hoopoe Summit in front of 12 ESC volunteer from Europe, Russia and Peru.
Author: Gloria Corradini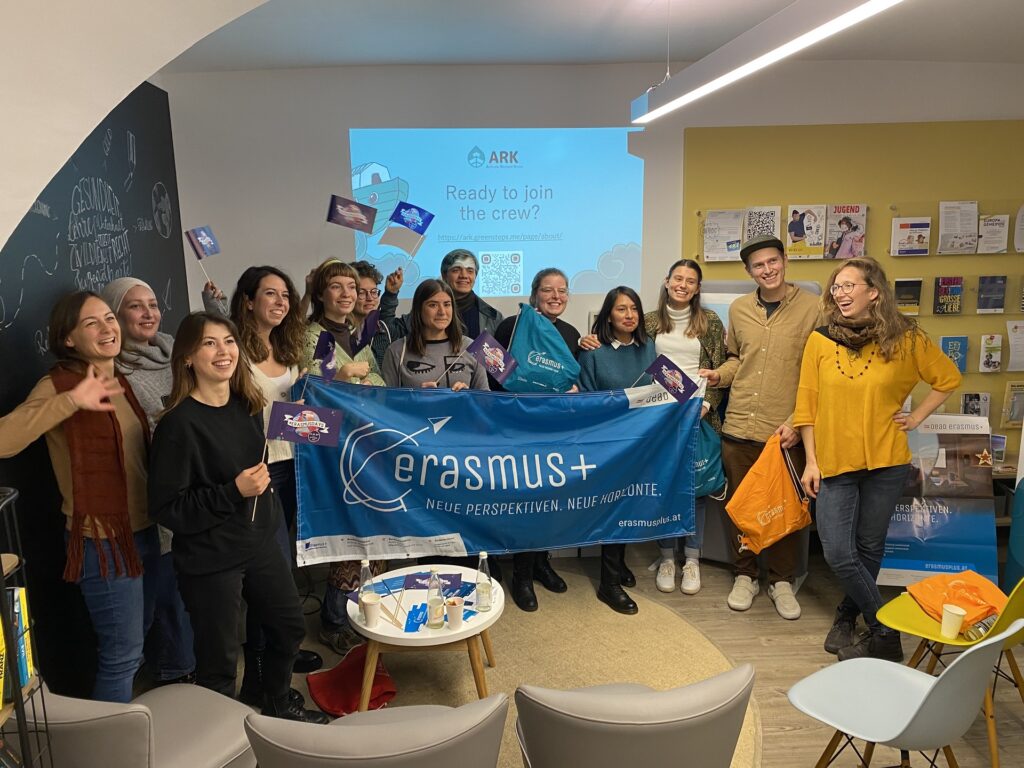 From the 14th to the 16th of October the Erasmus days took place and on the 14th , Green Steps was invited by the JugendInfo of St.Pölten to screen our self-produced documentary about the Hoopoe Summit and the Ark for 12 ESC volunteer from Europe, Russia and Peru.
What are Erasmus days? What does JugendInfo do? And what are ESC volunteers?
Erasmus days are three days per year of celebration of the Erasmus+ programme in Europe and beyond. Whoever is part of an Erasmus+ programme during those days has the opportunity to share his experience, organize an event and talk about his project. In this way, the young people that are interested in Erasmus+ programmes get the chance to learn and talk about current projects in their area. This year was the 5th edition of the Erasmus days, and more than 67 countries all around the Globe participated with 5668 events! This year, the JugendInfo in St.Pölten organized a get together event for all the ESC volunteer of Lower Austria.
JugendInfo, translated as Youth info center, is a governmental organization with offices all over Austria and with the goal to support and strengthen the youth in all their life paths. It is an info point for young people and everyone who works with them; they offer workshops on specific topics, help youth setting up projects and support them in finding suitable funding. They are also often operating as coordinating organization for many ESC volunteers and the JugendInfo in St.Pölten has recently established a powerful collaboration with Green Steps. This collaboration empowers the youth center proving them with insightful workshops and courses focused on environmental topics while helping Green Steps in augmenting its audience of young people in Lower Austria.
Now we got to the last question, and I will also explain the difference between an Erasmus+ and an ESC program. ESC stands for European Solidarity Corps, which is an EU funding program for young people aged between 18 and 30 wishing to engage in solidarity activities in a variety of areas. These range from helping the disadvantaged to humanitarian aid, as well as contributing to health and environmental action across the EU and beyond. The program also addresses organisations active in the solidarity sector looking to involve young people in their activities. Green Steps is currently hosting an ESC volunteer from Italy, who is mainly involved in environmental education and in the preparation and guidance of local activities in St.Pölten.
The Erasmus+ program is also financed by the European Commission, and similarly to the ESC, aims to improve young people's skills and increase employment opportunities, as well as provide up-to-date education, training, and youth work. They provide a wide range of opportunities for youth to experience learning mobility and non-formal education. However, while the Erasmus+ program provides youth exchanges, training courses, mobility projects for youth workers, scholarships for students to study abroad and grants for scientific work, the European Solidarity Corps program focuses primarily on short and long-term volunteering projects.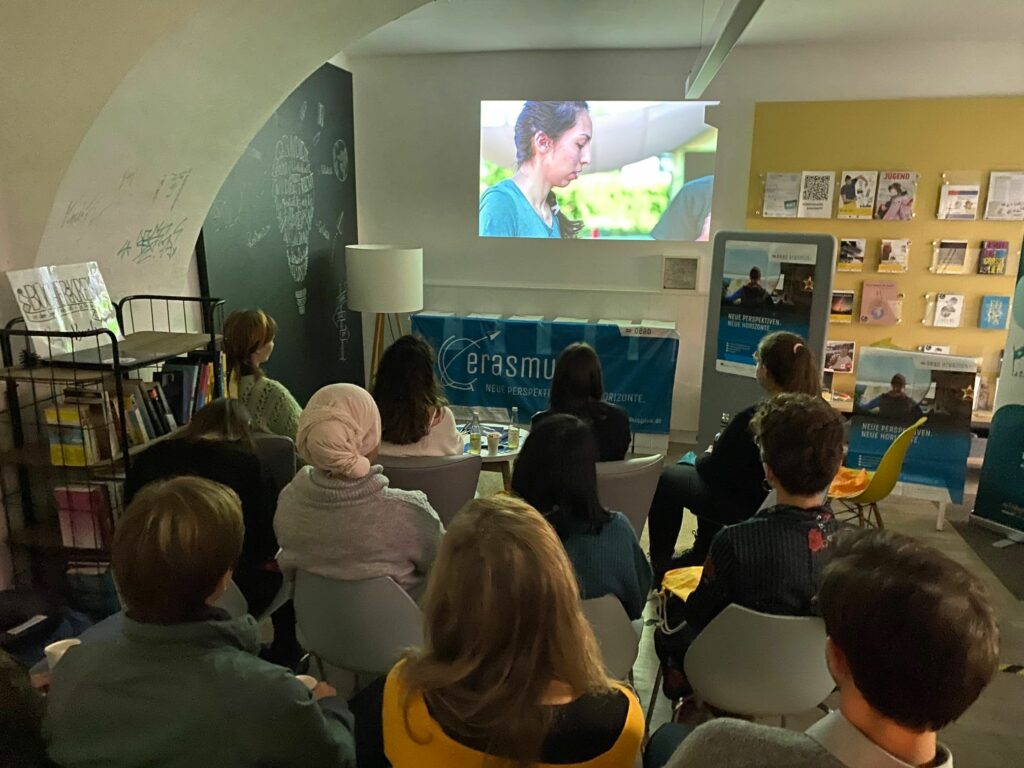 From the 2nd to the 11th of July 2021, Green Steps held a youth Exchange project (Hoopoe Summit) financed by the Erasmus +, in which participated a total of 36 young people from Austria, Germany, Spain, Lithuania and Georgia. The directed objectives of this project were first of all to empower young people to make positive impacts by inspiring them in starting a career in environmental education or by the creation of a collaborative global network willing to tackle climate change, and secondly strengthen the nature connection of individuals by spreading environmental awareness and creating personal bioregional identities throughout the participants.
During the Hoopoe Summit, a 35-minute documentary was made by a professional team, with the aim of exporting the objectives of the summit to a global scale. "Learning what matters. Now." and "On the Importance of Environmental Education as a Solution to the Climate Crisis" are title and subtitle of the documentary. The documentary is divided in 4 different chapters: Natural biodiversity, Human biodiversity, Environmental education, and Creating Impact. Those chapters point to the current environmental crisis, which is directly linked to a social crisis and, together with environmental education, an innovative and technological solution is shown.
On the 14th of October Green Steps got the opportunity to screen this documentary for the first time, in front of a crew of ESC volunteers. The screening was a success, the volunteers applauded at the end, and they expressed that they felt emotionally connected to the topic presented. After the screening they wanted to know more about Green Steps, what they do, their local activities, they felt curious of joining their online platform and one guy even proposed himself for translating the landing page in Russian.